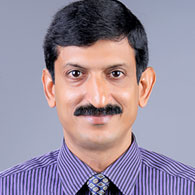 Prof. Vinod A Prasad
IIT Palakkad aims to become a premier technological institute in India by setting a unique foundation with three strong pillars – A well-balanced curriculum that provides equal space to classroom theory and practical hands-on training for connecting with real-world engineering applications, a translational research culture supported by applied research and innovation that helps to find technological solutions to societal needs, and a conducive working environment with strong interaction and bonding among students, faculty and staff, that catalyses the progress of the institute.To achieve this goal, our curriculum places significant emphasis on integrating ample hands-on lab sessions with the objective of establishing strong connection between the theory and real-world engineering applications. We believe that learning becomes effective when classroom theory is connected to real-world practical examples. By inculcating mandatory summer internship and final year project in the curriculum, our students are better prepared to undertake challenges in industry upon embarking their career.

The Career & Development Centre (CDC) team is growing to help IIT Palakkad students gain a headstart towards their dream career. By providing placement training and career preparation talks as well as workshops, we put our best efforts to get the students better prepared for their first job and stand out amongst the competition.Employers are most welcome to work with the CDC team on the recruitment of students for internship and placement.

We wish all our students every success in securing their dream job and the very best in life. The CDC team take this opportunity to wish employers in identifying and recruiting graduates who are the best match for your organization.